Tracking Apple Search Ads campaigns
AppMetrica detects Apple Search Ads advertising campaigns. Apple links app installations from Search Ads on its own.
This section explains the steps for setting up AppMetrica tracking to work with Apple Search Ads ad campaigns. Use the latest version of the AppMetrica SDK for Search Ads tracking.
Note.
The Search Ads attribution works in the AppMetrica SDK version 2.9.4 and later.
Step 1. Integrate the iAd Framework
Integrate the iAd Framework into an application with the AppMetrica SDK installed, so that Apple Search Ads can detect and link app installations. Integration instructions are available on the Search Ads site (see paragraph Add the iAd Framework to Your Xcode Project).
Connecting in Unity

In the Unity 3d interface, open

Note.

If you added the iAd Framework in the Xcode project, you don't need to add the directive.

. Add the APP_METRICA_ADD_IAD_FRAMEWORK directive.
After the iAd Framework is added, the AppMetrica SDK starts to detect installations from Apple Search Ads automatically.
Step 2. Perform a test installation
Create a test advertising campaign for Search Ads and install the application through ad placement. The tracker for this source will appear in the AppMetrica interface automatically: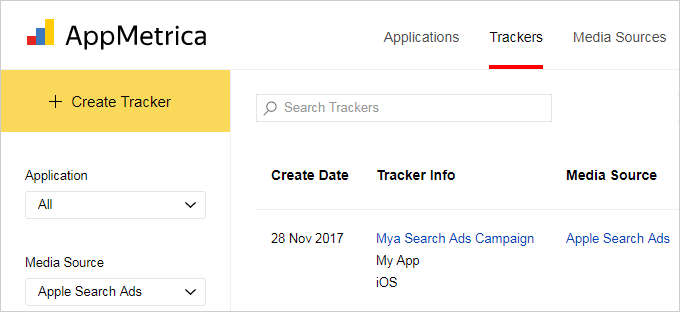 Step 3. (Optional) Configure attribution
Set up the Search Ads attribution by using the tracker configuration:
Go to the

Trackers

section. In order to filter the trackers by a media source, click on the

Media Source

drop-down list in the menu on the left and select

Apple Search Ads

.

Select the tracker in the list that you want to set up the attribution for. The tracker name matches the name of the Apple Search Ads campaign.

Make the necessary changes to the

Attribution settings

section and click

Save

. For more information about setting up attribution, see

Creating a tracker

.