Profile list
The report displays the full list of user profiles in a table. You can use the report to evaluate statistics by profile attributes and go to the profile card.
To customize the set of columns, click

and select the required attributes from the list.
In the report, you can select specific users by using segmentation.
You can see detailed information about a specific profile in the profile card. Click the profile to go to the card.
Profile card
The profile card displays:
A list of attributes and their values.

Event timeline by session.
You can use the profile cards to learn about typical users who complete the target event. You can use this data for advertising and push campaigns. You can also use the event history to understand what helps or hinders conversion and what leads to a crash or an error in the app.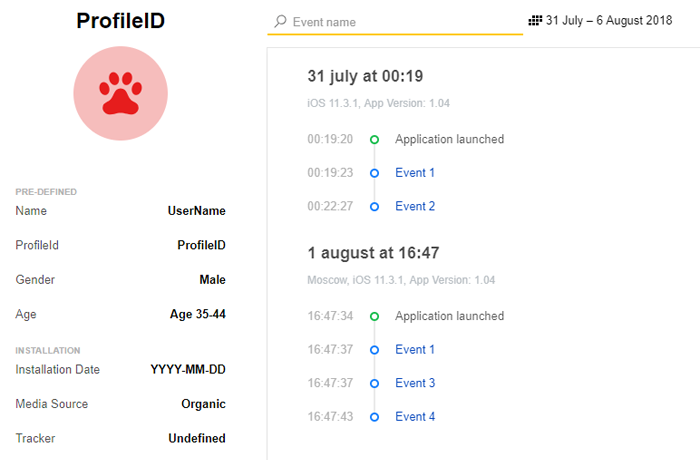 The event timeline displays:
Sent custom events that have been configured in the application.

Events that have been sent automatically by the AppMetrica SDK: application start, crashes, and errors.
The event timeline is displayed for a specific time period (a week by default). The date range can be set via the

drop-down element.
To view the passed values of the events or the log description, click on the event or error in the list.